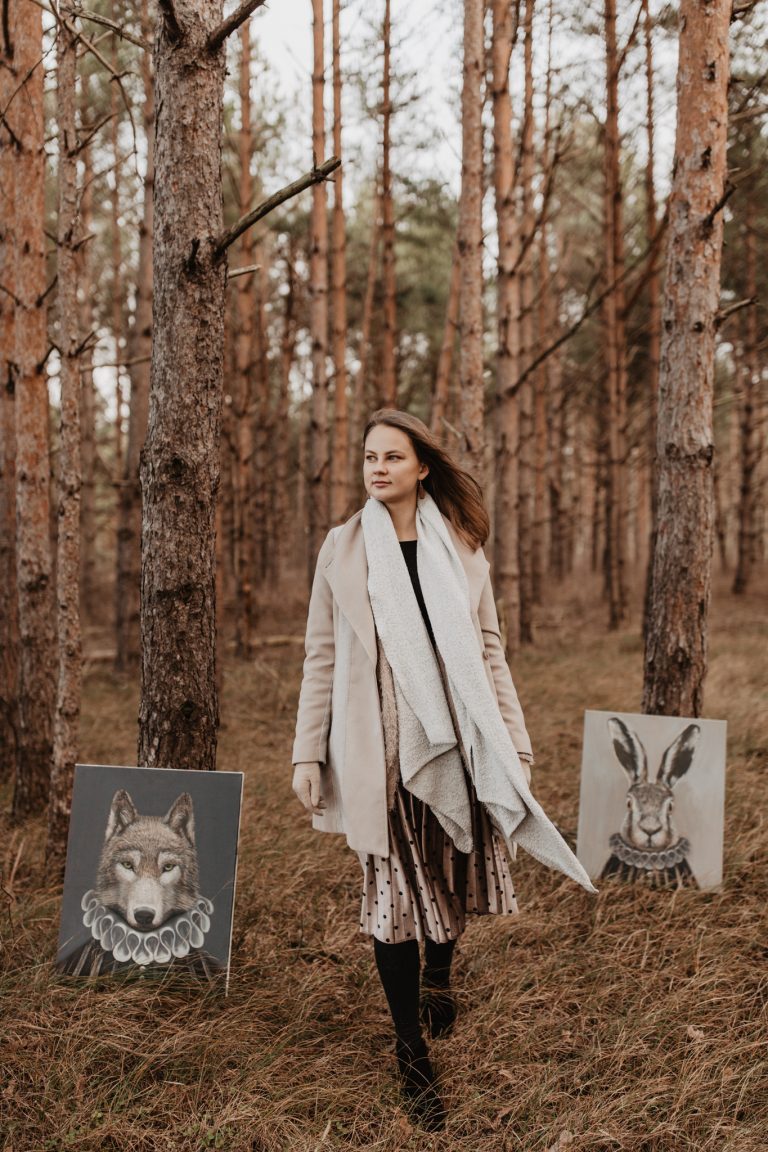 My name is Laura Dzerve. I'm a textile artist, painter and art teacher based in Liepaja, Latvia. I graduated Art Academy of Latvia and have studied at Falmouth University, England.
Originally, I am from a small town, next to the Baltic Sea – Pavilosta. I lived there with my two brothers and parents, my dad was a border guard, and my mom worked in a kindergarten. I would say I am an ordinary country girl who loves nature and rejoices about small things. Creating art and making money with that has always been my dream.
I like to watch people and be in different environments. Probably that is why I depict different personalities in my works.
I teach drawing and painting at Liepajas secondary school of Music, Art, and Design. I like to be a teacher. I'm open to international projects.
Currently, I am studying masters in textile art and spending time with my three-legged cat assistant – Adolfin.
Thank you!
SOLO EXHIBITION- "POZITIVE MUZZLE" 30/04/21 – 30/06/21
ZEIT Ligatne, Latvia
SOLO EXHIBITION- "IN THE BEAST SKIN" 11/07/20 – 30/09/20
Pavilosta Museum, Latvia
"GAMES WITH MATERIALS" – 11/04/19 – 19/05/19
Cesis Exhibition House, Cesis
Exhibition of Latvian Textile Art Association
"PROCESS" – 2018
Vitebsk University, Belarus
"CENTURY" – 29/06/18 – 22/07/18
St. Peter's Church, Riga
SOLO EXHIBITION- "EXPRESSION" 14/05/16 – 30/06/16
Pavilosta Exhibition Hall, Latvia
TEXTILE ART – 01/09/22 – now
Art academy of Latvia, Master of Arts
BASICS OF PEDAGOGY – 01/08/19 – 31/11/19
University of Latvia
TEXTILE ART – 01/09/15 – 31/06/19
Art academy of Latvia, Bachelor of Arts
NEW DESIGN RULES – 16/04/18 – 20/04/18
Art Academy of Vilnius, Klaipeda Faculty, Seminar led by Bass Konning (Art University of Netherlands)
TEXTILE DESIGN – 01/09/17 – 31/01/18
Falmouth University, England (Erasmus)
ADVERTISING DESIGN – 01/09/11 – 31/06/15
Liepaja Secondary School of Music, Arts and Design
LIEPAJA VISUAL ART EXHIBITION "THE ROAD" AWARD – 2019
Museum of Liepaja,
Painting Award – "In the beast skin"

BRADFORD TEXTILE SOCIETY DESIGN COMPETITION COMMENDATION – 2018
England
Commendation for fabric design- "Cornwall"

LIEPAJA VISUAL ART EXHIBITION
VISITOR SYMPATHY AWARD- 2017
Museum of Liepaja,
Award for painting "Peace"
DRAWING, PAINTING AND TEXTILES TEACHER – 01/09/19 – NOW
Liepaja Secondary School of Music, Arts and Design
FASHION DESIGNER, DESIGNER ASSISTANT – 10/09/18 – 18/01/19
Baltika Group, Monton brand, Tallinn, Estonia