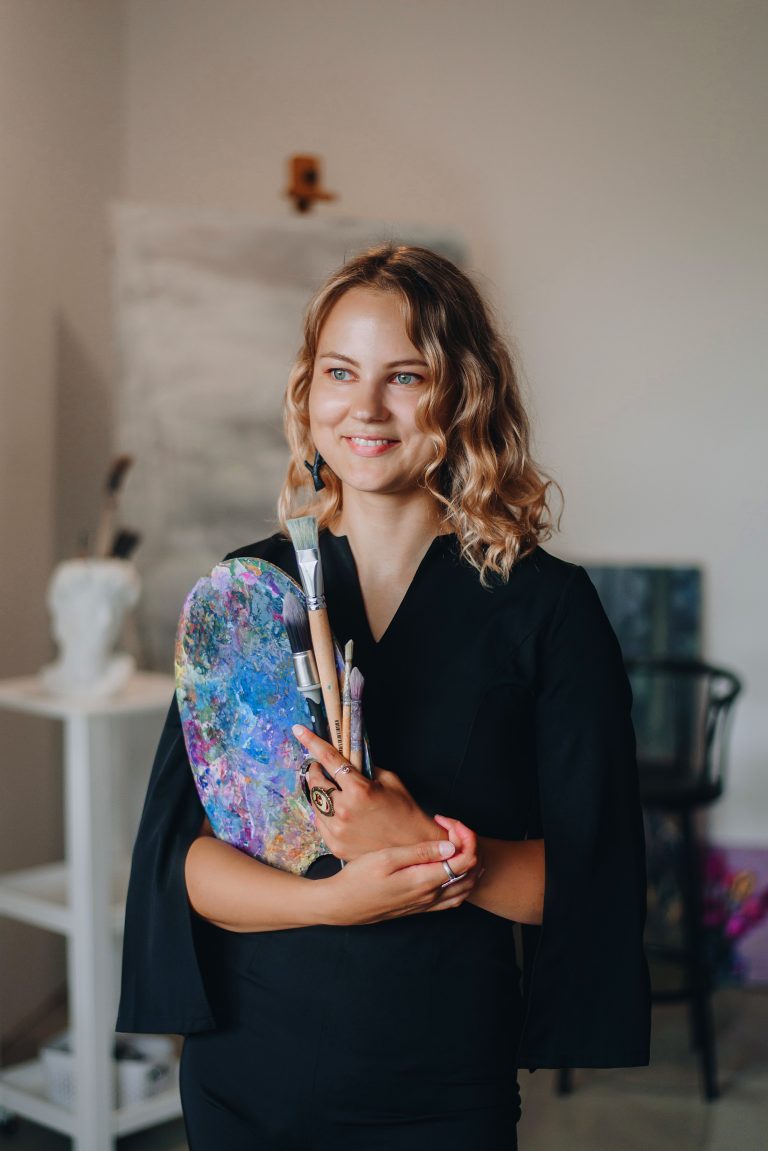 Hi, I'm artist and art teacher based in Liepaja, Latvia. I graduated Art Academy of Latvia and have studied at Falmouth University, England. Currently I'm studying for a master's degree.
Originally, I am from a small town, next to the Baltic Sea – Pavilosta. I lived there with my two brothers and parents, my dad was a border guard, and my mom worked in a kindergarten. I would say I am an ordinary country girl who loves nature and rejoices about small things. Doing art has always been my dream.
I explore topics that worry, scare and shock me. Art without feeling and experience is just decorative element. An artist must feel pain, you cannot create something unique, true, if you stay only in the environment of wealthy, elegantly dressed and intellectual people. It is a very small part of society, a small, narrow strip, if you only take your inspiration from it, you will only stay there. An artist must be wise in all aspects of life.
I like to realize my ideas in unusual materials and media, such as bullet shields, algae and other natural elements.
Art is a way to tell your story. Nothing big or eccentric, just honesty and a desire to be creative.
"CROWNING" 20/06/23 – 30/11/23
National History Museum of Latvia, Riga, Latvia
"WHAT'S IN/ON YOUR HEAD?" 18/04/23 – 23/04/23
Salone del Mobile international design fair, Milan, Italy
SOLO EXHIBITION- "POZITIVE MUZZLE" 30/04/21 – 30/06/21
ZEIT Ligatne, Latvia
SOLO EXHIBITION- "IN THE BEAST SKIN" 11/07/20 – 30/09/20
Pavilosta Museum, Latvia
"GAMES WITH MATERIALS" – 11/04/19 – 19/05/19
Cesis Exhibition House, Cesis
Exhibition of Latvian Textile Art Association
"PROCESS" – 2018
Vitebsk University, Belarus
"CENTURY" – 29/06/18 – 22/07/18
St. Peter's Church, Riga
SOLO EXHIBITION- "EXPRESSION" 14/05/16 – 30/06/16
Pavilosta Exhibition Hall, Latvia
TEXTILE ART – 01/09/22 – now
Art academy of Latvia, Master of Arts
BASICS OF PEDAGOGY – 01/08/19 – 31/11/19
University of Latvia
TEXTILE ART – 01/09/15 – 31/06/19
Art academy of Latvia, Bachelor of Arts
NEW DESIGN RULES – 16/04/18 – 20/04/18
Art Academy of Vilnius, Klaipeda Faculty, Seminar led by Bass Konning (Art University of Netherlands)
TEXTILE DESIGN – 01/09/17 – 31/01/18
Falmouth University, England (Erasmus)
ADVERTISING DESIGN – 01/09/11 – 31/06/15
Liepaja Secondary School of Music, Arts and Design
LIEPAJA VISUAL ART EXHIBITION "THE ROAD" AWARD – 2019
Museum of Liepaja,
Painting Award – "In the beast skin"

BRADFORD TEXTILE SOCIETY DESIGN COMPETITION COMMENDATION – 2018
England
Commendation for fabric design- "Cornwall"

LIEPAJA VISUAL ART EXHIBITION
VISITOR SYMPATHY AWARD- 2017
Museum of Liepaja,
Award for painting "Peace"
RUNNING AN ART STUDIO – 01/02/22 – NOW
Liepaja, Klaipedas street 19/21
DRAWING, PAINTING AND TEXTILES TEACHER – 01/09/19 – NOW
Liepaja Secondary School of Music, Arts and Design
FASHION DESIGNER, DESIGNER ASSISTANT – 10/09/18 – 18/01/19
Baltika Group, Monton brand, Tallinn, Estonia